Home Page for Tethered Hydroplane Racing
| | |
| --- | --- |
| | |
| Image courtesy Mick Biddle | Image OTW |
REGATTA DATES 2016
Seasons bridle colour for 2016 is Blue and Brown.
*With regards to the Althorne venue, the strength and direction of the wind plays a big part in whether we are able to hold the regatta. Please check before setting out.
Norman Lara, Tel mobile 07956 423410
---
What, Who and Where
What is tethered hydroplane racing
Modern tethered hydroplane racing offers competitors a variety of classes and options with which to pit their skills against the clock. The tethered hydroplane is a purpose built model, designed expressly for high speed on water using either an immersed propeller or airscrew. Boats are connected via a pair of wire bridles and a line of set length to a rotating pylon. This will give a circular lap of known length, usually 100 yards or 100 metres. There is no steering or any other means of control. The boat, be it a flash steamer, novice or vintage, powered by a large capacity home-built engine, a high performance commercial two-stroke, or even an electric motor is connected to the line and the engine started. When satisfied that the engine is producing maximum power, the competitor launches the boat off on its run, aided by a rubber bungee. The timed laps are signalled by the competitor when happy that the boat is at its fastest. The elapsed time for the required number of laps is translated into speed and the head scratching starts over adjustments needed to achieve an even faster run next time. This is the quest that has continued to challenge participants in this fascinating sport of tethered hydroplane racing for over 100 years.
| | | | |
| --- | --- | --- | --- |
| | | | |
| Preparation | Launching | Call the run | Recording the speed |
Information Sources

Racing Related Articles
Venues
Althorne Lake

Essex

Private lake situated to the south side of the B1010 in Althorne village, 1/2 mile past Station Rd
gps 51.652018,0.768957
Kingsbury Water Park

Staffordshire

Country Park off Bodymoor Heath Road Tamworth. Car Park charges apply
gps 52.561078,-1.700027 SatNav B76 0DY
Victoria Park

East London

Public Park. Limited parking at St Marks Gate off Cadogan Terrace, walk to lakeside.
gps 51.539596,-0.027981 SatNav E9 5EG
St Albans

Hertfordshire

Verulamium Park. Park in Roman Museum car park off A401, charges apply. Walk to lakeside
gps 51.752181,-0.35491 SatNav AL3 4SW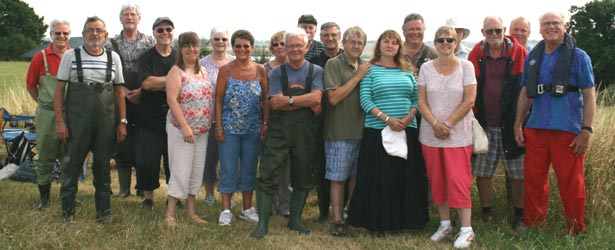 MPBA affiliated clubs with active hydroplane members
Model Hydroplane Club

National

Formed in the 1970s to promote the building and racing of tethered hydroplanes countrywide.
Contact: Sonia Collins. 020 8590 4318
email: modelhydroclub@btinternet.com
Retro Racing Club


National


The Retro Club was set up in 1996, primarily to cater for the vintage interest and incorporated the Rushden Club. Members running all classes of hydros.
Contact: Peter Hill. Ivy House. Main road. Great Carlton. Louth LN11 8JU
email arty.pole@gmail.com
Alpha


National


Small group formed in the 1980s, solely to run tethered hydroplanes nationally and internationally, primarily NAVIGA classes.
Contact: Stuart Robinson 13 Church Road. Stevington. Bedford. MK43 7QB
North East



The club celebrates its centenary in 2010 and while not being able to run hydroplanes at their lake currently, still has a number of enthusiasts of long standing who compete regularly.
Contact: heatonmodelboats@aol.com
South Shields


North East


Home club of Bob Kirtley, one of the world's leading exponents of high speed flash steam tethered hydroplanes and the current outright record holder.
Contact: Robert Kirtley 2, Datchet Road, Whitley Bay NE25 9UR
Kingsbury


Midlands


Formed in 1975 to take advantage of the newly opened water park. Members from other local clubs starting running hydroplanes in 1990. High profile members, include Arthur Wall and John DeMott.
Contact: John DeMott, Rowden Cottage, Fenny Drayton CV13 6BP
Welwyn


Central


Welwyn hosted the last world championships to be held in this country, but have since lost their lake for hydroplanes. Home Club of John Hyder, current 'A' Class record holder
Contact: Philip Radford, 21 Home Close, Stotfold, Hitchin, Herts SG5 4DJ
St Albans


Central


St Albans MES has a long history of involvement with tethered hydroplanes and their lake hosts the two day International Regatta each August.
Contact: Roger Lane 27, Marten Gate, St Albans, Herts AL4 9NB
Victoria

London E

Founded in 1904, The Victoria model Steamboat Club is one of the oldest in the country. A wealth of tethered hydroplane experience exists amongst the members, including current outright hydroplane record holder, Norman Lara.
Contact: Keith Reynolds email: VMSCvictoriapark@talktalk.net
Blackheath

London SE

This year sees the club entering its 82nd year with straight running and tethered hydroplanes remaining its primary interests. Current Chairman is Jim Free who holds no less than 4 tethered hydroplane records in two airscrew classes and two waterscrew classes.
Contact: Phil Abbott email: Blackheath-mpbc@hotmail.co.uk
Cotswold


Southwest


One of the primary venues for many years, run by a core group of highly enthusiastic engine builders and competitors, now sadly without a local water.
Contact: Mike Rose. New address to be confirmed
| | | |
| --- | --- | --- |
| | | |
| B1 and B1 Sport Airscrews | Three A Class flash steamers | Two 30cc A Class IC boats |
Club contacts and web addresses correct as at 1/02/2014
©CopyrightOTW2015