One of the greatest frustrations for tethered car enthusiasts in the UK had been the lack of opportunity to run their cars here. If you were a member of the BTCA and raced either a modern FEMA car or a more recent vintage model, then there were the European tracks, but for the collector, home builder and fun runner there was little opportunity, unless you were prepared to risk the compass circle at Old Warden, and its propensity for wrecking cars. It was something of a red-letter day then, when it was announced that the inaugural meeting of Peter Hill's Great Carlton Raceway would be on 12th June 2011.
| | | |
| --- | --- | --- |
| | | |
| Amazing metal work by John Goodall | Russian 'school car' built from a kit | PAW 'lightweight' |
The Retro Racing Club held a unique position, having been set up by Peter Hill in 1996 to 'Encourage the building and running of tethered racing cars of the more traditional type.' This was later extended to include vintage tethered hydroplanes as well. Peter started by publishing a regular newsletter that ran to seventy issues over twenty two years and then expanded the club's activities by offering numerous drawings, castings, and a variety of tyres to assist those interested in building or restoring cars.
| | | |
| --- | --- | --- |
| | | |
| Almost a 1066 Conquest | Doc 2 from 1948 | Running as it used to be |
Conscious of the need for a facility to run cars, Peter built a track at his home in Bedfordshire, which became the regular venue for Retro Club members for fun competitions and thoroughly enjoyable 'days out'. Apart from the couple of portable poles that were set up on car parks in the South West, the track at Souldrop was the only permanent facility available in this country. This was used extensively until the end of the 90s, when a move to Lincolnshire brought an end to the 'Souldrop Speedway' and the opportunity to run cars.
There were promises and hopes surrounding possible sites for new tracks which all come to nought and the BMCC portable track did offer some facility until that group imploded so spectacularly. The only prospect on the horizon was that Peter did intend to build a new track when time and money allowed. Eventually construction did start, but an unfortunate series of health problems and family tragedies meant that the track was not finished until 2010.
| | | |
| --- | --- | --- |
| | | |
| Dick Roberts' sidecar | Peter Hill's 1066 MRC | Galeota 'Speedster' |
The track at Great Carlton is 7 laps to the ¼ mile and with the pouring of a wide apron during the 2013 season offered the ideal and unique opportunity to have a run with anything vintage or vintage style, as long as a certain degree of common sense was involved, speed wise. Since the Retro Club has been in operation, members have build dozens of cars of amazing variety, as well as rescuing and restoring original models, and here was a chance to try them out.
| | | |
| --- | --- | --- |
| | | |
| Beautiful Cleveland air-car | Rytm powered Ferrari 312T | Cox 049 'flyer' |
The track can clearly be seen on Google earth, but more recently, the photos below were taken from a drone.
For further details of the long list of available plans, both for cars and tethered hydroplanes, contact Peter Hill by the power of electronic communication at arty.pole@gmail.com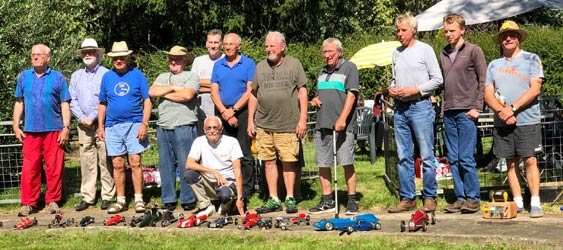 Happier times, pre Covid.
Update on track days: Sadly, Peter has made the decision that, owing to ever dwindling support and lack of response from members, there will be no more official Retro Club track days at Gt Carlton. Therefore, all the remaining dates are now cancelled, see report below.
The curtain comes down on the Gt Carlton Raceway.
It was over a decade ago that Peter Hill was able to open the second of the tracks he had built over the years, this time up in Lincolnshire. With no other viable track in the UK, it enabled members of the Retro Club to run a variety of cars, both wheel and propeller driven. A huge variety of cars were run over the years, and apart from a couple of very wet days, everyone enjoyed the garden party atmosphere, liberally laced with the smell of diesel. At one stage it was a case of vying for track time as so many people were turning up with cars. In quick succession though, serious illnesses, family and business problems plus the ever present advancing anno domini began to reduce the numbers significantly. Then of course there was Covid and the opening of Buckminster along with a bit of subsidence that made running cars in an anti clockwise direction something of a lottery, more often that not ending up with a car on its back or some very deranged metal. Not to say that the track was not runnable as Dick Roberts, Martin Coe and myself proved with their 80+mph aircar runs.
Last season the numbers had fallen to such a level that Peter seriously questioned whether it was worth continuing, but decided to give it one more season. To this end he asked people to indicate whether they would be supporting him, but with little response. Mowing the infield and setting up the pit area is a lot of work if only a couple of people turn up, which was the case for the first meeting this season. Another ring round did not elicit any further response resulting in Peter declaring that the June meeting would be the last ever official track day at Gt Carlton.

That we were able to hold an event at all was something of a miracle as just four weeks previously, persistent rain had turned the track into a lake as the photos shows. It had dried out but not done anything for the evenness of the surface.
It has to be admitted that it is not an easy place to get to and this was one of our longest journeys ever, arriving to find Chris Maggs and Pete Hughes already sweeping the track with an indisposed Peter supervising. My final flurry on the track last season had resulted in a track record at 86mph and three cars suffering from metal fatigue, not surprising considering the thousands of laps that two of them with their aged PAW motors had completed. In honour of the occasion, all the parts that were salvageable from the two trusty PAW cars that had seen service over every season since 2011 in their various incarnations were amalgamated into one new car with damped suspension at each end. Four runs of over forty laps each at a steady 45mph seemed a fitting end to the twelve seasons the various parts had completed. The suspension worked fine though, handling the big bump with ease.
| | | |
| --- | --- | --- |
| | | |
| Got the T shirt and the car | Pete Hughes with Testor's special | Hugh with 'all sorts' |
This was not so for Chris Maggs with his wheel driven car that fell over on each run, causing him to retire for the day. Pete Hughes' aircar fell foul of the same bump, performing a double somersault with one and half twists for a tally of 4.9. His little Cox Prop Rod by comparison trundled round very happily, but it was going the other way round. Unfortunately, our host was injured, but in due deference to the occasion suggested that we might like to run the late Keith Bragg's aircar that we had deranged twice last season. The HB motor is a bit powerful and took a bit of needle twiddling to get it to run cleanly but then it was off with a vengeance, but as it was running anti clockwise, it does not require too much imagination to figure out what happened next. Yes, for the third time in succession we had managed to wreck it, but this time terminally. So the Retro events at Gt Carlton ended with a bang, but only that of an aircar bouncing down the track. Much to the delight of 'the other half', a chance conversation resulted in the sale of the last of the OTW diesel cars, so for the first time in many years, the trip home was not accompanied by the pong of diesel fuel.
| | | |
| --- | --- | --- |
| | | |
| Hooking on Pete's Prop Rod | Slightly deranged | Totally deranged |
We reluctantly had to agree with Peter the level of support did not warrant the work and expenditure involved, although he did point out that the track would still be available for anyone that cared to contact him for a private day of running. We will not miss the eternal drag across the Fens adding ever larger and slower agricultural vehicles to our Observer Book of mobile traffic jams, but will miss the great days we have spent there, so thank you Peter. For a video of this final event go to our youtube channel www.youtube.com