A Brief History of the BTCA
By David Giles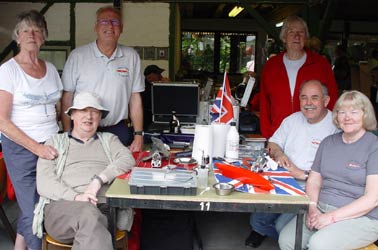 Kapfenhardt 2015
June Heath, Steve Turley, Hugh Blowers, David Giles,
Oliver and Debbie Monk (New Team shirts)
---
History
Aims
Building a modern car
The British Tether Car Association was originally formed in 1978, with two principal aims. One to enable me to continue running cars officially in international competitions, and the second to 'test the waters' to see if there was still any interest in tether cars in the UK. I had been actively involved in running cars in European competitions whilst living and working in Germany in 1977 & 1978, and upon returning to the UK decided I would like to run for my country rather than as a member of the German club I had joined (Renngemeinshaft Schwartzwald). Although I had been welcomed with open arms by the good folk at Kapfenhardt, and given tremendous help and encouragement. In the UK I found a small flurry of interest in tether cars and in the fledgling BTCA. In total, I received correspondence from some 20 people. At around that time, we ran a couple of cars at Brean Sands Model Makers Festival on a tennis court, a very professional centre pole being designed and built for the purpose by Tony Higgins. Also about 6 newsletters were sporadically produced. Familiar names associated with this project were Geoff Sheppard, Stan Barrett, Stuart Robinson, Tony Higgins and Jim Batten. I continued to race in international events (including becoming 5cc European Champion in 1979) until in 1981 a further work assignment took me to the Middle East and work which precluded any contact with the (then) Eastern Bloc. Stuart Robinson continued to pay the BTCA's subscription to FEMA (Federation Europeenne du Modelisme Automobile – the sport's European governing body) for a few years, and participated in one or two events until it became unviable.
After a conversation and some correspondence with Peter Hill, the BTCA name was resurrected for a time and appeared on the cover of several of the Retro Racing Club newsletters.
However, on 11.March.2000 a formal application to FEMA was made in order to re–join the international organisation, so after a lapse of some 15 years, the British Tether Car Association was re-activated.
The reasons were as follows:
Since attending a few meetings starting with the European Championships in Basle in 1997, I had re-kindled my interest in tether car racing.

I was approached by old friends on the FEMA governing body to let them know if we were interested in running and if so, to provide a list of officers representing the United Kingdom.

I wanted to formalise the membership of the United Kingdom in FEMA.

There were three of us who wanted to run competitively in the year 2000.
We provided the minimum number of officers – notably Roger James as Technical Secretary, and myself as FEMA point of contact. We then received the latest rules and regulations from FEMA, as well as details of how to register our cars - a process which had changed in the intervening years. We registered two cars in our first year to run in the (then) class 5 (3.5cc) and set up the basic framework under which to operate, namely a list of interested parties, including their allocated racing number and the car registration number.
The first three members of the re-formed BTCA were as follows:
DAVID GILES:
A control line enthusiast since the age of 10yrs, but always drawn to tether cars. I ran my own designed and built 2.5cc twinshaft car on the track at Mote Park in Kent shortly before its demise in the mid 1960s. Became involved in tether cars whilst working in Germany in the late 1970s. Rekindled the interest in competition some 20 years later.
Racing number: GB001
STUART ROBINSON:
Has been a tethered car and tethered hydroplane enthusiast for more years than most of us care to remember. He has held innumerable records in the tethered hydroplane field and has given many years of loyal service in various capacities to the hobby of model boat competition, both domestically and internationally.
Racing number: GB002.
ROGER JAMES – Technical Secretary:
A lifelong model builder, with model aeroplanes, steam locomotives and very competitive tethered hydroplanes to his credit (Roger was at that time 10cc World Champion). He also holds British tethered hydroplane records and is a respected tuner of model engines with an enviable track record, particularly in control line combat and team racing. Roger is an engineer of broad experience, thus making him an ideal person for the role of Tech. Sec.
Racing number: GB003.
---------oOo--------
For anyone interested in international competition, the latest edition of the rules (both FEMA and WMCR) are available on the website www.speedmodelcar.com.
Registration of a car is initiated by contacting the BTCA for the allocation of a racing number – "GBxxx" – and by submission of a 'Daten Erfassungsblatt' (specification data sheet) that is filled in and submitted to the FEMA Technical Secretary by the BTCA Technical Secretary after he has scrutineered the car and it has satisfied the technical specification and design criteria for the relevant class. The car then receives a registration number, which has to be engraved on the bottom pan, and a racing licence.
There is no subscription to the BTCA, but there is an annual fee per driver of 10 Euro and an annual national fee of 100 Euro, to be paid to the FEMA treasurer around the start of the racing season. The national fee is simply divided by the number of active drivers. As FEMA point of contact, I collect this money and transmit it by IBAN direct to the FEMA bank account.
For further information: email: flatbadger@btinternet.com
---
British Tether Car Association
"For the furtherance of competition running"
Aims and aspirations of the B.T.C.A.
To act as the national organisation representing Great Britain within F.E.M.A. and to pay the country's annual subscription.

To provide a minimum number of officials to represent Great Britain in International Tether Car Racing - i.e.

F.E.M.A. representative/point of contact.

Technical Secretary.

To provide a single point of contact with F.E.M.A. for British Tether Car Enthusiasts who wish to race in official competitions.

To accept the F.E.M.A. rules with regard to definition of tracks, racing classes, safety rules and requirements.

To ensure that cars intended for use in official competitions conform to specification, are registered and given a correctly configured racing number.

To ensure that cars intended for use in official competitions are inspected for technical integrity and the correct registration documents are processed and signed by the BTCA Technical Secretary.
----------o0o----------
Rationale:
Great Britain was for many years one of the most prominent countries in the sport of model car racing. Some former British tether car racers such as Messrs. Drayson, Proctor, Cook and Dean actively participated in the formation and building of the F.E.M.A. organisation. Our aspiration is to continue this participation and to support International Tether Car Competitions.
---
Building A Modern Tethered Racing Car.
Any activity, which seeks to achieve ultimate performance, requires dedication, persistence, knowledge and expertise, and running a modern tethered car is no exception. All the preparation is channelled into a few moments of activity when the car reaches optimum performance and a high speed run results. The car is the essential piece of hardware and there are three main routes to becoming the owner of a modern FEMA car.
Buy an existing competition car (or commission one)
Purchase the component parts and assemble a car yourself.
Build a car from scratch. Surely the most daunting.
David Giles from Bristol has been the most successful British competitor of the modern era and, so far, is the only Briton since 1956 to become a European Champion. After a lengthy period of retirement from active competition, a trip to a meeting at the Basel track rekindled his interest and he took the decision to design, build and develop his own Class 3 car. The car has since proven to be a consistent front-runner in competitions and achieved 4th place in the 2005 European championships.
David continued with development of his cars with the latest introducing an entirely new concept in chassis design. He has very kindly provided an account of the progress with DJR3 and the innovative Papagai.
One of the newer recruits to the British tethered car scene is Oliver Monk who has been competing on the European circuit in Class 2 and Class 5, adding Class 3 in 2013. He regularly contributes articles on building and developing a range of cars and motors including much of the complex engineering involved.
OTW & BTCA at Lyon 2005

Stuart Robinson, June Heath, Dave Cunliffe,
Steve Turley, Ollie Monk and David Giles at Lyon 2008

Debbie, Oliver and Hugh, Basel 2013
BTCA, meeting 2013

Aaron Monk, David Giles, June Heath, Oliver Monk,
Steve Turley & Hugh Blowers Kapfenhardt 2014
©copyrightOTWandDavidGiles2014