| | |
| --- | --- |
| | Steve Betney's Work Bench |
BASIL MILES' 1948 MG TROPHY WINNER REPLICA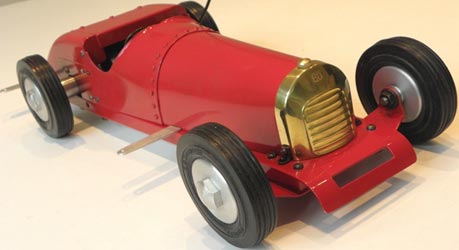 Having been addicted to using ED model engines for the last 55 years and collecting them for some 35 years or so I gradually became more interested in the work of their early designer, Basil Miles. Hardly any two of the engines made by his hands, the 0.9, 3.5, 5, 8, 10 & 15cc as well as larger types, were exactly the same, even if differing only in points of detail. I was delighted to acquire an original ED Aerocar tethered car designed by him on eBay about 8 years or so ago now. The vendor turned out to be Bill Langley, who had acquired it for the princely sum of £1 from no less a person than the famous Gerry Buck, who had owned it from new. Over the years it had been well used and re-engined a number of times, witnessed by the many drilled holes and bits added to the bearers, and at that time had a tired Mills 1.3cc fitted. Cosmetically it was in fairly lamentable condition, with a very thick coat of purplish, creosote-like paint. A full strip-down revealed that the only new parts needed were some good straight ½" square beech chassis members to replace the original gnarled and twisted items, a new pair of beech engine bearers, a new brass strip for the bonnet joint and some replacement 4BA 5/16" square nuts where they were missing or corroded. The original green and red cellulose finish was visible during the strip-down, so matching cellulose paint was procured for the renovation, and a decent and more appropriate ED 2cc Pennyslot diesel engine with a white plastic ED propeller fitted.
This is a picture of my restored Aerocar, alongside my Spur Gear car under construction. A certain R T Pole has been requesting preparation of some construction drawings from this original Aerocar so that RRC members who wish can build accurate replicas, so hopefully these can be completed for publication in a later Newsletter.

After joining the Retro Racing Club some years ago, with a long interest in tethered cars and having built a couple of Oliver cars from Ivan Prior castings and parts back in the 1990s, I acquired sets of Model Cars and Model Car News magazines from my old friend Mike Beach (which turned out to be Ken Procter's own original copies).
On the back page of the July 1948 MCN is a nice advertisement for the new ED 2.49cc front rotary diesel (the early plain crankshaft bearing version with the non-scalloped cylinder head top fin), with a much retouched photo of Basil Miles' spur geared car which won the 1948 MG Trophy with this engine at 41.7mph (see image left).

Much further delving into the April/May 1948 issues of Model Cars magazine turned up a couple of further images and some outline information on this car and the earlier "Flatiron" prototype from which it was developed, and also his later 1949 streamlined MG Trophy car (said to look somewhat like a 1947/8 Gerald Spink 500cc Squanderbug full size car) in the July 1949 issue.
There is a text-only announcement of an upcoming kit of parts to build this spur geared car on a late 1948 ED price list, but none of my ED collector friends have ever seen an example or plans of it, or know of the existence of these anywhere, so perhaps this listing was jumping the gun and it never really made it into production (for reasons I shall give my suspicions about later….). An ED advertisement in the June 1949 MCN magazine mentions the Series 2 version of the 2.49cc Mk3 diesel, by now with the scalloped top cylinder fin and with a needle roller bearing crankshaft, and possibly this was the version that won the Hastings Trophy and set a new Class C record of 50.5mph. This advertisement also lists "ED Spur Wheels" of 40DP and 1.5:1 ratio at 25/- per set. Since a single ED wheel was 6/6d, presumably this "Spur Wheel" must have been a back axle fitted with 2 driven wheels and a set of spur gears? Needless to say, the images of the car in MCN and MC magazines, plus its resemblance to a 1930s Alfa Romeo Monza Spider or an Aston Martin Ulster (with the back ends squared off) whet my appetite to make one of these cars, so with a plan or kit being unobtanium (a rare element) I set about designing a replica as exact in every detail as possible.
This only proved feasible because the original Aerocar was to hand for reference, as there are some common parts from which other bits of the spur geared car may be scaled. The obvious common components are the 3" diameter ED Speedicord Cressite tyres with hubs & bearings, the nicely stamped brass radiator and also the bent alloy front axle. Some repro Speedicord tyres are still available from Bill Bannister of the RRC I believe, but I was incredibly fortunate to get hold of a set of 4 new and unused original tyres and wheels for my car from an old RRC member by virtue of a chance conversation at a Sandown Park Model Engineer Exhibition a couple of years ago.
The radiator on Miles' spur geared car strangely has no "ED" embossed on it like the Aerocar part, nor is it adorned with a turned brass radiator cap, and it has also been cut down by ¼" at the base to reduce its height. This radiator turned out to be the hardest component of all to reproduce. A few years' search to locate an original Aerocar part and my attempts to tin-bash one from brass sheet over a hardwood dolly both failed, so finally I had to invest in having a lost wax master mould professionally made from my original Aerocar part, and some repros cast in brass.
| | |
| --- | --- |
| They are externally exact and rather beautiful replicas of the Aerocar part (the image shows the original radiator on the left and a lost wax cast version on the right), though the lost wax process can not deal with compound curves in .020" thick material over such a surface area, so the edges and back had to be thickened up and strengthened somewhat. This is fortunately no bad thing at all, as both the Aerocar and spur geared car could do with some extra weight at the front end to improve balance. | |
To be concluded next month
Work Bench welcomes pictures with any relevant information concerning projects and restorations of tethered hydroplanes, cars or engines. Email admin@onthewire.co.uk